News
Copacabana Mon Amour at the Festival del film Locarno 2014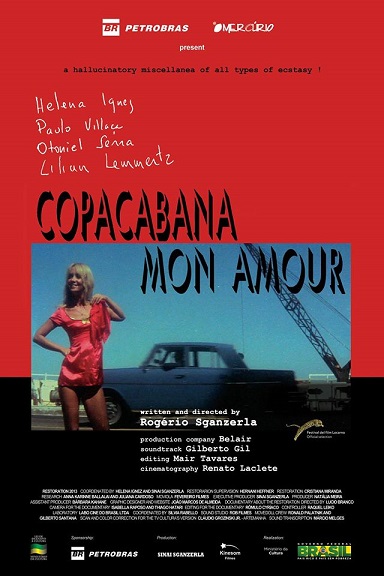 Copacabana Mon Amour will be exhibited at the section Histoire(s) du cinéma, at the 67th Locarno Festival.

Screenings:

Monday 11 | 8 | 2014
16:00
PalaVideo

Tuesday 12 | 8 | 2014
09:00
L'altra Sala

Subt. English

http://www.pardolive.ch/en/catalogue/film?fid=763832

______________________________________________________________________________________________________________________

Session to pay tribute to Rogério Sganzerla in Rio de Janeiro, 19 February





Dear Humanity,

Ten years ago, cinema lost one of its grand masters, Rogério Sganzerla. To mark this date, the Cachaça Cinema Club is showing, on 19 February, the restored 35mm copy of his film "Copacabana mon amour".

The film is produced by Belair – featuring Rogério Sganzerla, Helena Ignez and Julio Bressane – that produced 7 films between May and February 1970. Amid the dark years of Brazil´s dictatorship, these films proposed new forms of production, an aesthetic approach and a confrontational policy. Cinematographic vandalism! And the censors clamped down hard. Shortly after, the destination of the two filmmakers was political exile. In the words of Rogério, Belair was "an imaginary production company, but one that that made its mark in history. Even so, in its bid to do away with academic and conventional discourse, it performed a highly beneficial role within the ethos of producing good, attractive and low-budget films. Unfortunately, the system revolted against this type of operation".

Hunger, thirst, dance. Its predecessors came from Gomorra. In the spring of the year 1080, Nicolau de Cusa raped a western princess who was a descendent of Gengis Kahn, giving birth to Davi. And Davi gave way to Don Fernandez, and Don Fernandes to Djacuí. And Djacuí became the old, black man Zezinho da Perna Dura. And Zezinho da Perna Dura became Noel who manifested as Edmilson. And Edmilson lead to Aristides. And Aristides gave rise to her, Sônia Silk, the Fera Oxigenada!" (Bleach-blonde Muse).

"Copacabana, mon amour" recounts the story of Sonia Silk, who dreams of becoming a singer on National Radio, and makes money as a sex-worker for gringos. Sônia sees spirits and walks around screaming on the streets, hills and black magic ritual sites, among pedestrians and ghosts of the city of Rio de Janeiro. It is one of the key films for discovering the history of Brazilian cinema, and also the history of Brazil. It is obligatory viewing. Without ever having been commercially launched in Brazil, it is the first film by Sganzerla to be restored, in a process that began in 2010, with the sponsorship of Petrobras. Technical details of the restoration process can be found at the site for the film: http://copacabanamonamour.com/rest_en.html

We hope this is only the first film of the entire collection by the filmmaker to be restored, and hope to always have the means to preserve and restore cinematographic patrimony – an area that suffers from a lack of permanent funds and projects.

In the cast, Helena Ignez in her most sumptuous guise, Paulo Villaça, Otoniel Serra, Lilian Lemmertz, Guará Rodrigues, among others. For the film, Gilberto Gil composed, at the request of Rogério, an entire soundtrack (with the same name).

Helena Ignez will be in attendance to present the film. And after the film, there will be a cachaça (Brazilian rum) tasting event in the foyer of the cinema to remember the work and celebrate the eternal presence of Sganzerla on the silver screen.

19 February, at 9pm, at Cinema Odeon Petrobras
Praça Floriano, 7 – Cinelândia
Price: 14 reais (full price) / 7 reais (half-price, upon presentation of promotional flyer)

We salute Yellow-green, Mr. Sganzerla!
Regards,
Cachaça Cinema Clube

______________________________________________________________________________________________________________________

Screening of the restored version of Copacabana mon amour at Cinesesc, on 9 January

Marking ten years since the death of Rogério Sganzerla, CineSesc is showing the restored copy of the film in 35mm.

(Direction: Rogério Sganzerla. Brazil, 1970, 85', 16 years).
Cast: Helena Ignez, Otoniel Serra, Paulo Villaça, Guará, Joãozinho da Goméia, Laura Galano. Summary: Sônia dreams of becoming a singer on National Radio and, to make money, prostitutes herself to tourists in Copacabana. Her brother Vidimar, a domestic helper of Dr. Grilo, falls in love with his boss. The mother of Sônia and Vidimar believes her two children are possessed by the devil. Sônia, who sees spirits being invoked in the weirdest beings and objects, decides to seek out the father of Santo Joãozinho da Goméia.

Cinesesc. 09/01/2014, 20h30. Collect tickets an hour earlier.
Rua Augusta, 2075 - Cerqueira César, São Paulo - SP, 01413-000. (11) 3087-0500.